DAYTONA BEACH, Fla., May 01, 2019 (GLOBE NEWSWIRE) -- Brown & Brown, Inc. (NYSE:BRO) (the "Company") today announced that as part of its disciplined capital allocation strategy, the Company's Board of Directors has authorized the purchasing of up to an additional $372.5 million of the Company's outstanding common stock.  With this authorization, the Company will now have outstanding approval to purchase up to approximately $500 million, in the aggregate, of the Company's outstanding common stock.  The shares will be repurchased from time to time, at the Company's discretion and subject to the availability of stock, market conditions, the trading price of the stock, alternative uses for capital, the Company's financial performance, the desire to reduce dilution from the Company's employee equity incentive plans, and other potential factors.  These purchases may be carried out through open market purchases, block trades, accelerated share repurchase plans of up to $100 million each (unless otherwise approved by the Board of Directors), negotiated private transactions or pursuant to any trading plan that may be adopted in accordance with Rule 10b5-1 of the Securities Exchange Act of 1934.

Brown & Brown, Inc. (NYSE: BRO) is a leading insurance brokerage firm, providing risk management solutions to individuals and businesses. With Brown & Brown's 80 years of proven success and thousands of teammates, we offer knowledge you can trust and strive to deliver superior customer service. For more information, please visit bbinsurance.com.
R. Andrew Watts
Chief Financial Officer
(386) 239-5770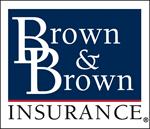 Source: Brown & Brown, Inc.